From the early nineties, there has been an explosive growth in the local music scene. Before then, there had been a long period where Kenyan musicians had been a forgotten lot, hardly getting any airtime on our local radio stations. Instead music from the West or from Congo and South Africa dominated the radio scene.

All that has changed recently with Kenyan musicians such as Hardstone, Gidi Gidi Maji Maji, Musikly Speaking and Eric Wanaina making a big impact. All our local radio stations regularly play Kenyan music.
Nevertheless, a lot still remains to be done for Kenyan music to conquer the next frontier - the international market. For one, the standard of music needs to be improved. In standards, I am referring mainly to the kind of message and culture that is reflected in Kenyan songs.

If you listen carefully to music played on local radio stations today, most of them have one dominant message, party all night! You would be forgiven for coming to the conclusion that everyone in Kenya spends their time partying and fooling around. It is also common to find sexual innuendos in most of the lyrics in the songs. However, there are so many subjects that we can talk about in our songs. There issues such as AIDS, corruption, poor governance, poverty and crime that affects us. We could talk about family relationships, our traditional culture. There are so many stories waiting to be told to the rest of the world. It would therefore be wonderful if our musicians expanded there horizons on the subject matter of their songs. Music as an art form should try to give a true reflection of what happens on the ground and of who we are.
Another unfortunate trend in some of the local music is the constant aping of music from the West.


It is not unusual to find heavy influences of hip-hop and rap in many Kenyan songs. Kenya is blessed with a wonderful array of traditional cultures, each with their own kind of music. Think of the Isukuti of the Luhya, the Taarab of the coastal people, the Mugiithi of the Kikuyu, the Benga of the Luo, the Bhangra of the Asians. There is so much to choose from!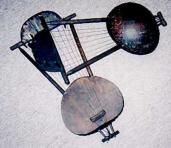 With all that said, we should also recognize that local musicians need a lot of support and incentives for them to thrive. The government should think of nurturing the talents that are often exposed at the annual Kenyan music festivals. We could think of starting a musical institute that promotes our own cultures while at the same time teaching everything there is to know about composing wholesome music. If that is done, who knows, Kenyan music may be ruling the Billboard charts!


By Sally Mukami